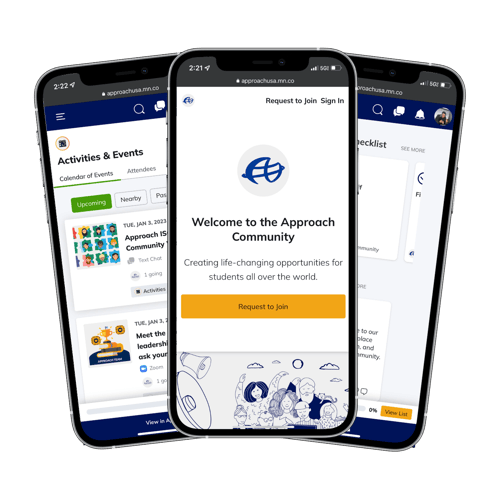 Join the Approach Community!
The Approach Community is the newest platform built for students and all members of our community. This is where you will find all information about upcoming activities and events, curiosities, personalized content, workshops, and OPPORTUNITIES!
How to access
Go to the link approachusa.mn.co, and click "Request to Join." Please note that in order to access our community as a student, you must be logged in to your Student Email account. Our team will not allow access to any email address that doesn't end with @approachisc.edu
You must be enrolled at our school to be able to access our Approach Community.
How do I participate in the upcoming activities?
All you have to do is go to EVENTS, and browse through the event section until you find an activity that you would like to participate in. Once you find what you're looking for, don't forget to click on RSVP. Please note that we will count on your participation once you RSVP!