Welcome to Boston and New England!
A Guide for international students living abroad
Studying in another country is an exciting and challenging journey! While making academic progress, students can also take advantage of experiencing life in a new city by trying different foods, discovering cool places, and learning about new cultures and their traditions.
We believe that information is key to making this transition smoother. Therefore, we prepared a complete guide for you to get the most out of your time living in the city of Boston, or the beautiful region of New England!

Approach put this together to help you be successful at our school as well as in Boston! We hope you will enjoy everything this place has to offer and that you fall in love with it just like we have. Home is where you make it, and we are your home away from home.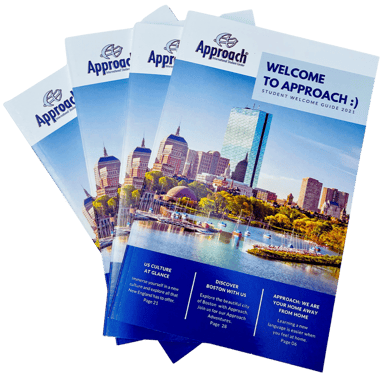 In this guide, you will find:
Information on practical matters such as opening a bank account, getting a Mass ID, Driver's license, social security number, health insurance for international students, and much more
An introduction to New England and the history of Massachusetts
A guide on getting around the city by subway, bus, or car
A list of must-go places to visit in Boston
A collection of tips on what to do in each one of the four seasons: Winter, Spring, Summer, and Fall
Restaurant tips and an overview of the traditional New Englander Cuisine
Ready to discover Boston with us? Download the Guide Now!